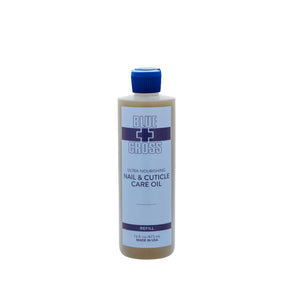 100% Natural Olive Oil Formula
Regular use of Blue Cross Nail & Cuticle Oil helps to moisturize and care for both your cuticle and nail, ensuring the nail's health. The all-natural Olive Oil based formula is packed with essential oils and vitamins such as Hemp Seed Oil, Avocado Oil, Vitamin E, and Tea Tree Oil and has a light and refreshing Lemongrass and Lavender fragrance. The non-greasy formula absorbs quickly, effortlessly penetrating into the area to protect and strengthen skin, nails and cuticles.   
Simply massage the oil into cuticles twice a day (and after a manicure for additional care) to promote strong, nourished nails
Directions: Using the dropper to apply to the nail bed, gently massage one drop into each cuticle twice a day.
Nourish with all-natural Ingredients: 
Olive Oil
Avocado Oil
Tea Tree Oil
Hemp Seed Oil
Essential Oils
Vitamin E